Recipe Roundup: November 2021
It's not your grandma's turkey anymore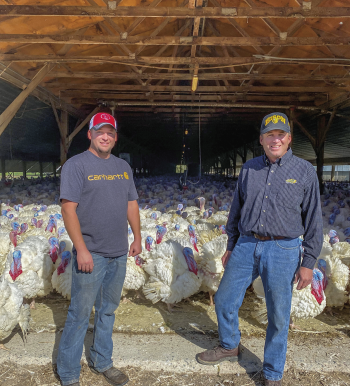 "I've been in turkey barns since I could walk," says Dave Muehler, a Dakota Valley Electric Cooperative member, who raises turkeys at the family farm located 3 miles west of Hankinson.

Each year, Dave and his wife, Wanda, and their son, Matt, raise close to 3.2 million pounds of turkey at their family-owned business, Muehler Turkey Farms Inc.

Dave's father, Elroy, started the family turkey growing business in 1943.

"That's 78 years we've been raising turkeys at this same place," Dave says. "I'm a traditional kind of guy. I think roasted turkey, with all the fixings, can't be beat. But there are so many other good ways to serve turkey."
 
NOT JUST FOR THANKSGIVING
Over the last 30 years, the U.S. turkey industry has gone from marketing a single product consumed at holidays to a nutritious, low-calorie, low-cholesterol, economical food that is taking its place in the American diet year-round.

Annually, the Muehlers ship roughly 80,000 heavy tom turkeys to the Jennie-O Turkey Store processing plant in Willmar, Minn., to meet this year-round demand. Their turkeys, weighing around 45 pounds each, are used to produce ground turkey for the retail market and for manufacturing products such as ham, bologna, salami, pastrami, bacon, breakfast sausage and hot dogs.

"You won't find any of our big birds being sold for roasting. They are so large; they probably wouldn't even fit in your oven!" Dave says with a laugh.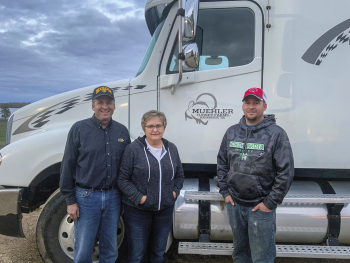 ENJOYING THE SIMPLER THINGS
"Life is busy on a family farm, so I like recipes that are easy and quick, and I think many other working women feel the same," Wanda says.

Besides growing turkeys, the Muehlers also raise soybeans, corn and a few head of cattle – which doesn't leave a lot of extra time for meal preparation. Like so many farm families, everyone pitches in, and Wanda is no exception.

Over the years, Wanda has spent many hours helping in the fields. More recently, she has focused on the accounting aspect of the farm business, while Dave, Matt and part-time employees do the field work. Of course, Wanda still helps when needed.

"Make no mistake about it, when we need her in the tractor, she's there, and I appreciate that," Dave says.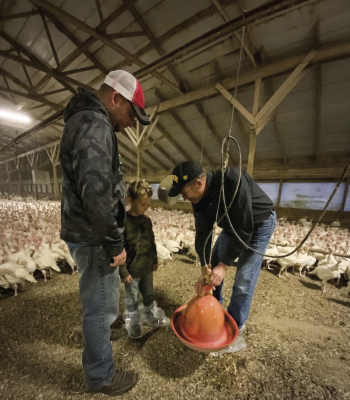 TAKING TIME TO SERVE
Dave is a longtime advocate for the turkey growing industry and has served on the board of the N.D. Turkey Federation for at least 40 years.

"The federation is most famous for donating turkeys for the governor's annual Thanksgiving turkey pardoning ceremony at the state Capitol building," Dave says.

Since the late 1970s, the number of turkey growers in North Dakota has dropped precipitously, from about 50 to only eight growers. Their enthusiasm, however, has never dimmed, as they work to raise awareness of the nutritious turkey products available.

"I'm certainly not tired of it, and I've been around a long time," Dave says. "I value the good relationships we've developed with people in the business."

In addition to his service to state and regional organizations, Dave is active in local community organizations and has served on the Hankinson Public School board for 22 years.
 
CHALLENGING, BUT REWARDING
"Raising turkeys is kind of like the dairy business," Dave says. "It's a demanding, 365-days-a-year, 24-hours-a-day job, but advances in technology make a big difference."

Because of biosecurity protocols, no outsiders are allowed in or near the turkey barns. Even feed trucks must be sanitized before entering the premises. This means the daily chores rest entirely on the shoulders of Muehler family members. Matt, who is the third generation to raise turkeys, is a vital partner in the entire operation.

Dave is happy when he sees how much Matt's 5-year-old son, Declan, enjoys "helping" with the chores and hopes, someday, Declan will be the fourth generation to raise turkeys on the family farm.
"Like every aspect of farming, raising turkeys can be challenging, but rewarding," Dave says. "With turkeys, you see the fruits of your labor in a short time. Taking them from babies to big healthy birds, in just over 20 weeks, is something you can take pride in."

As with any business, sometimes things don't always go as expected.

"I always say it's how you react that's important," Dave says. "If you just maintain a positive attitude and think, 'We're going to get this figured out,' in the end, everything will turn out just fine. This has proven to be true many times over the years, and for that, I am thankful."
Pat Schaffer is manager of communications and North Dakota Living local pages editor for Dakota Valley Electric Cooperative.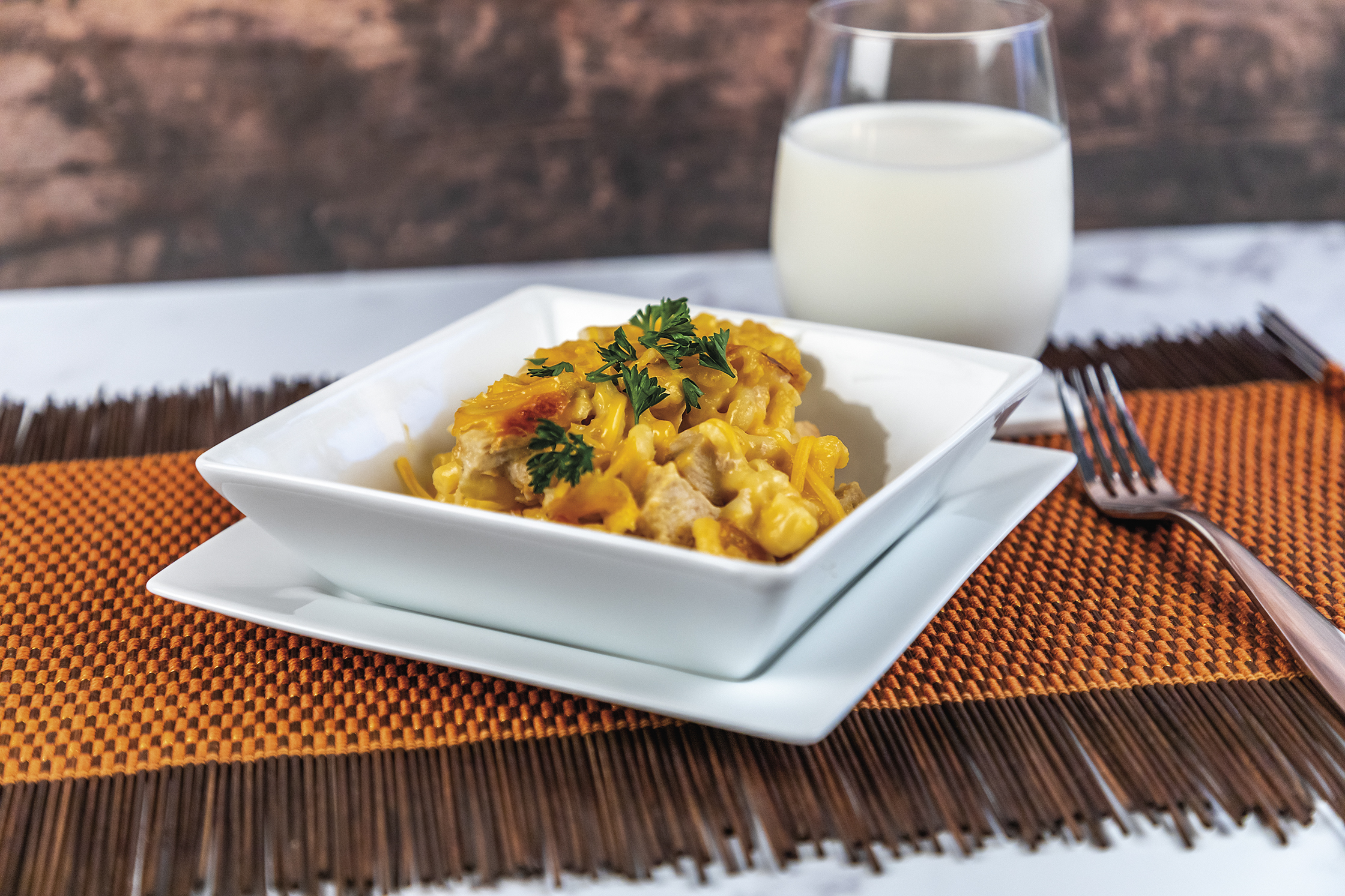 Instructions
    2    cups uncooked macaroni
    2    cans cream of chicken soup, undiluted
    2    cups milk
    2    cups cooked turkey, diced
    1    small onion, chopped
    2    cups shredded cheddar cheese
        Salt and pepper, to taste
Notes
Combine all ingredients and place in casserole dish. Bake at 350 degrees for 1 hour.
Source
Recipe by Dave and Wanda Muehler, Dakota Valley Electric Cooperative members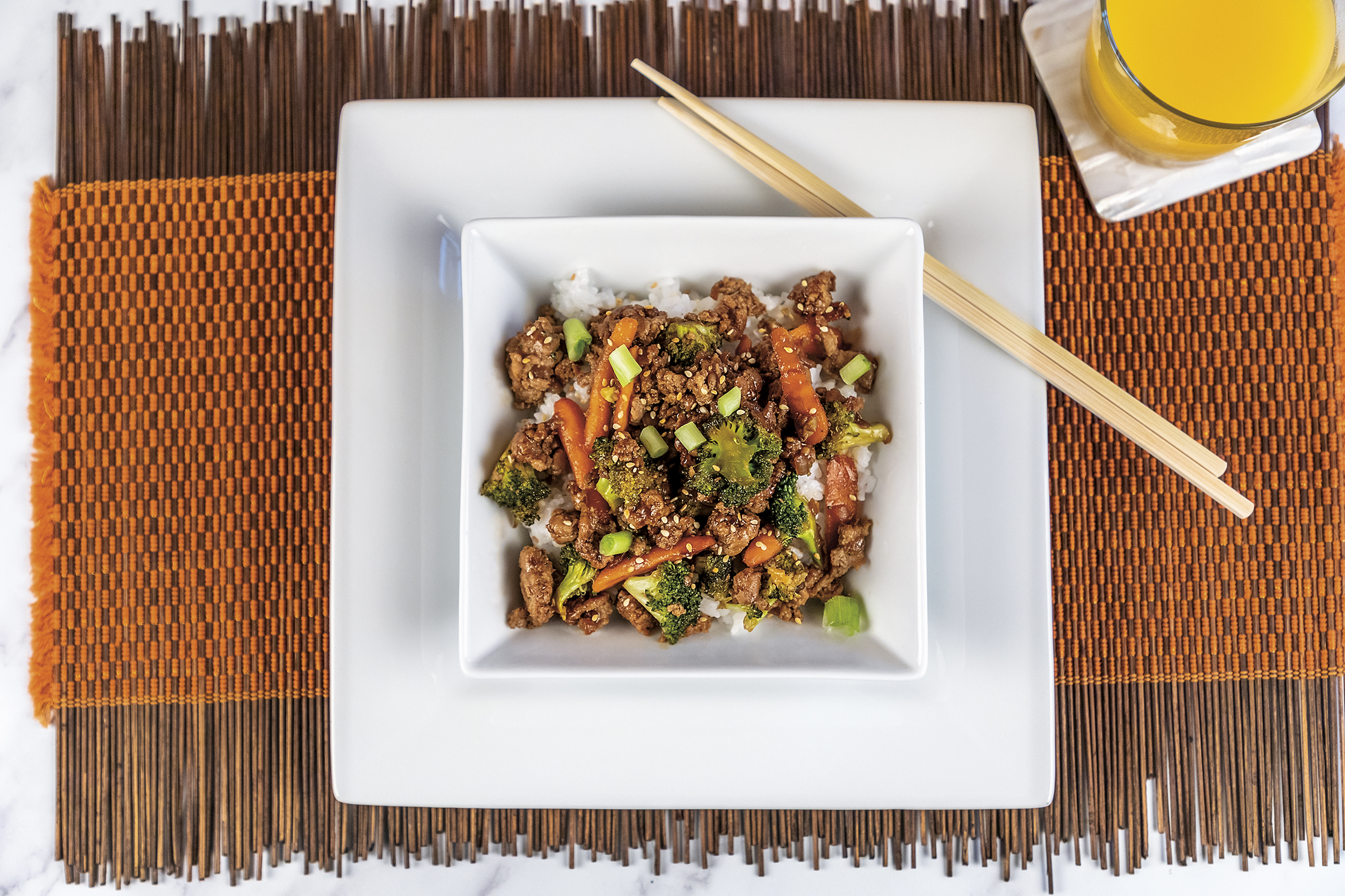 Instructions
    ½    cup low-sodium soy sauce
    ¼    cup + 2 T. water
    2    T. red wine vinegar
    1    T. white sugar
    1    T. brown sugar
    2    tsp. + 1 T. minced garlic
    1    tsp. ginger
    1    T. cornstarch
    1    T. vegetable oil
    ½    cup onion, diced
    1    lb. ground turkey
    1    cup broccoli, finely chopped
    2    carrots, peeled and grated
        Cooked rice or noodles, for serving
        Chopped green onions, for garnish
Notes
Whisk soy sauce, ¼ cup water, vinegar, sugars, 2 tsp. garlic and ginger in a saucepan over medium heat until sugars dissolve. In a small bowl, dissolve 1 T. cornstarch in 2 T. warm water. Slowly add cornstarch mixture to teriyaki sauce and simmer until thickened. Remove from heat and set aside.

Heat oil in large skillet over medium-high heat. Add onions and cook until soft. Crumble ground turkey and 1 T. garlic into pan. When turkey is about half-cooked, add broccoli and carrots, cooking until turkey is no longer pink. Pour teriyaki sauce over turkey and veggie mixture and stir. Simmer for about 5 minutes to combine flavors. Spoon meat mixture over rice or noodles to serve. Garnish with green onions.

WANDA'S NOTE: Other than traditional roasted turkey, this is Dave's favorite turkey recipe!
Source
Recipe by Dave and Wanda Muehler, Dakota Valley Electric Cooperative members