Badlands Shaving Co. Puts Unique Razors Into Hands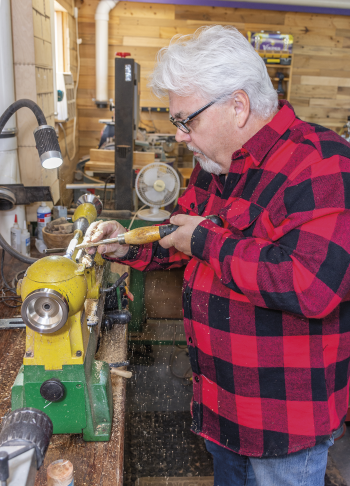 Fusing utility with artistry, Melvin Faris has been shaping wood into shaving gear ever since his hobby grew into a business, Badlands Shaving Co.

Badlands Shaving Co. is tucked away in a shop in the backyard of Melvin and Sylvia Faris' home in Mandan, served by Mor-Gran-Sou Electric Cooperative. There, he coaxes nature's beauty out of wood, combining it with lustrous manmade resin, to create one-of-a-kind razors, brushes and bowls.

The creativity of carpentry drew Melvin into the construction business right after he graduated from high school.

"That was my initial start with carpentry," he said. But the trade didn't become a lifelong career, as he returned to school and now works for the state of North Dakota as a web programmer.

"I grew up in southwestern North Dakota on a farm near Bowman. Over the years, I lived in several other states, but North Dakota was always home to me. We moved back to North Dakota about 20 years ago to be closer to family and to raise our kids here. The work ethic and values of the people here are different than other places that we have been and that was important to us," he says on the North Dakota Nice website.

And as his life evolved, Melvin continued to return to that one passion: woodworking.

"I've always had woodworking as a hobby," he says. "A few years back, I started doing the turning on the lathe. I've always done some kind of carpentry."

About 10 years ago, he purchased a small lathe and started turning wood, first making pens for family and friends.

Woodturning is the craft of using a wood lathe to cut a shape from a block of wood. Melvin is self-taught in using a lathe, learning the art after watching some YouTube videos and other craftsmen.

"It takes a certain amount of skill, that's for sure," he says, but his experience in using other woodworking tools was helpful.

As Melvin's hobby evolved, his son, Dustin, suggested he try creating handles for razors as well.

"It was a niche market for the razors and I just enjoy making them. I kind of got bored with pens," he says.

Soon, Badlands Shaving Co. was born.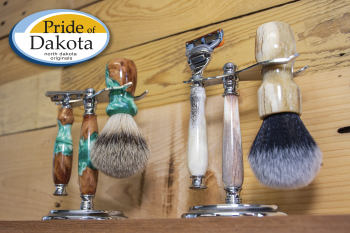 Sharpening the business
Today, the part-time business finds Melvin in the shop on evenings and weekends, with hopes he will spend more time on the small business upon retirement from his full-time job.

He creates razor and brush handles, along with small bowls used with the brushes. Once the handles are crafted, Melvin attaches the Badlands Shaving Co. emblem, the metal razor parts and the bristles for the brush. His wife, Sylvia, does the personal engraving. Many of the razors are given as groomsmen's gifts and are custom engraved.

"Each piece that we produce is as unique as it is beautiful. We spend a lot of time searching for the most beautiful and exotic pieces of wood so we can produce the highest quality products for my customers. Each piece of wood is carefully examined before it is turned to determine the best way to cut it to enhance its beauty," Melvin describes on his website.

"The brushes are kind of a niche market, but there are people who collect them. One customer bought 10 to 12 brushes from me," he says.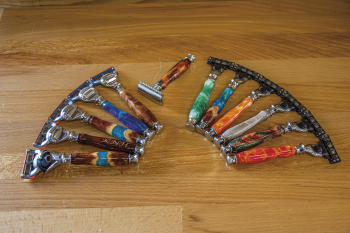 Most of Melvin's products are a unique blend of natural woods and manmade resin.

"I like to do the ones that are half wood and half resin. I started pouring my own resin with them a few years ago," he says. "That's a little more creative for me."

The result is a winding bluish-green river of color running through the polished wood.

"Those are unique. There are a lot of other brush makers, but there's not too many who are doing them the way I do it," he says.

He starts with burl wood, which is a growth on a tree formed from unsprouted bud tissue. The burl is placed in a form, and the resin is poured around it. The form is then placed in a pressure pot to remove any bubbles. After drying, the square piece of melded materials is placed on a lathe and shaped into the resulting handle. Several coats of a CA glue finish is applied to make the pieces water-resistant with a hard finish.

He'll also make pieces that are all wood or all resin, and uses deer antlers in his product, too.

The burl comes from many different species of wood, but Melvin also uses local wood, ranging from cottonwood to walnut to caragana.

"I use caragana quite a bit, which is used in shelterbelts. It's like a bush, so it's not very big around, but it has very beautiful wood on the inside," he says.

He also uses exotic woods, such as Australian red mallee burl.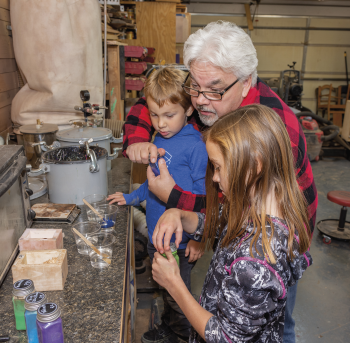 "That has a lot of character to it. It has a lot of the rough edges to it that makes it look nice when I pour it with the resin," he describes.

"You never know exactly how it's going to come out when you pour it. I kind of have a pretty good idea, but until you turn it on the lathe, then you'll see exactly what it's going to look like. It will surprise you when you turn it on the lathe," he says. "That's the fun part. The not knowing exactly how it's going to turn out."
 
Pride in North Dakota-made
As a Pride of Dakota member, Melvin has found opportunities through vendor shows.

"It's something I take pride in, being a Pride of North Dakota company," he says.

His products have been sold well beyond North Dakota's borders and shipped to 40 or more countries, from Japan to Finland to India. His shaving products have also been featured on the DIY Network, "Great American Country" and "Laurie March Home."

Melvin's family is involved with the business, including his grandchildren, who live across the street and often run over to their grandparents' house after school, where they help with pouring resin and learning more about the trade.

"My granddaughter, I helped her make her own pen the other day," he says. "She got to do a little turning as well."

While Melvin relishes the artistic aspect of the business, he also likes to engage with satisfied customers and get their feedback.

His products sell on Etsy, his own website at www.badlandsshaving.com(link is external) and www.shopnd.com(link is external), which is associated with Pride of Dakota.
Luann Dart is a freelance writer and editor who lives in the Elgin area.