Thank you for faithfully sending the magazine from the local electric cooperatives. I especially appreciate the section on recipes.

That note was written by my grandma, Vivian Holten, in her recent Christmas card to me.

My grandma is a voracious reader, so I know she enjoys the diversity of stories and features in North Dakota Living. From energy and local cooperative news to rural issues and legislative updates, she consumes it all. And, knowing no one can bake a ham or peel a hard-boiled egg better than my grandma, I figured she found the recipes interesting, too.

We hear similar sentiments often from readers (who aren't members of my family, I promise!). Recipe Roundup is well loved. Our readership surveys validate the popularity of the magazine's recipe section.

We've dug in the archives to find previously featured recipes for members who couldn't locate their copy. Others call with recipe questions, or to share what they liked or didn't like. In conversations with readers, when they learn I am the editor of North Dakota Living, I am never surprised to hear about "that one recipe" they make for every potluck or family gathering, which they found in this magazine. Those conversations always make me smile.

In recent years, we have pulled recipes from many sources: readers, co-op people, regional cookbooks, NDSU Extension resources, local restaurants and business owners, or individuals featured in the magazine. My favorites always accompany a story about a cooperative member. Food tastes better, to me, when it has a story to tell.

Which leads me to my plea: We want your food stories!

We are on the hunt for recipes and good food stories. Maybe a favorite restaurant is a staple in your local community, or a neighbor makes the best blueberry pie. Spill the beans. What is "that one recipe" you're always asked to bring, because you make it best? What recipes would you like to see in North Dakota Living?

This year, we created a recipe calendar, with themes to help generate recipes and draw good food stories from our readers. Please share with us, so we can share with all of you. Simply email your recipes and ideas to ndliving@ndliving.com or call 800-234-0518 and ask for Emily, our test kitchen queen.

My sister and I played a made-up game when we were younger. We called it "Make My Mouth Water." One of us would try to make the other's mouth "water" by describing, in great detail, a favorite food. "Water," in other words, meant salivating like a dog at the thought of something so tasty and delicious. It was mostly played when we were hungry. Hehe.

As I sit here on the precipice of my lunch break, I invite you, our dear readers, to send us your food stories, recipes and make my mouth water! (Thank you in advance.)

Cally Peterson is editor of North Dakota Living. She can be reached at cpeterson@ndarec.com.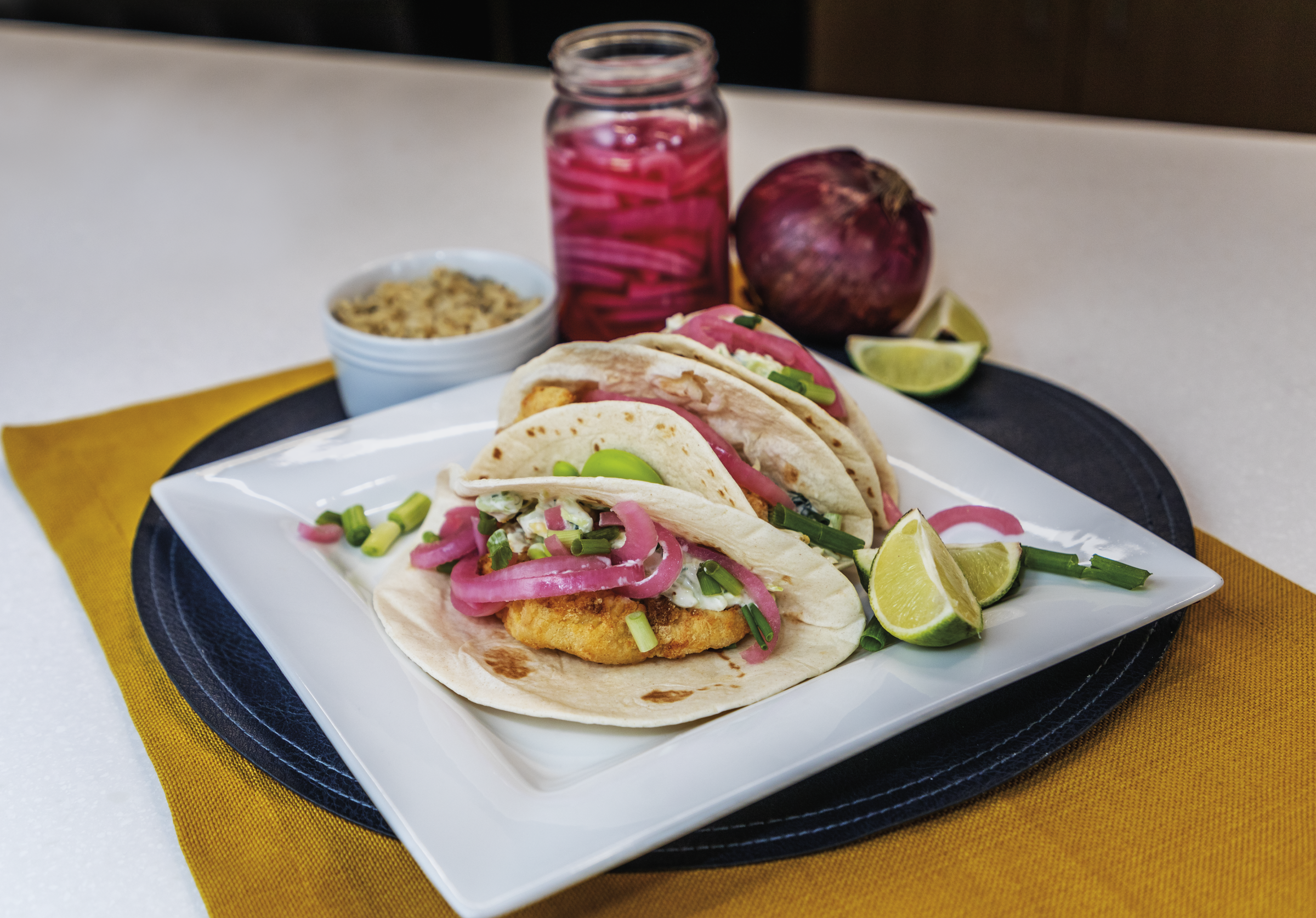 Description
    2    lbs. walleye fillets
    8    tortillas
    2    eggs
          Milk, for egg wash
    1    cup Shore Lunch, original recipe (or your favorite fish breading)
          Nonstick cooking spray

Pat walleye dry with paper towels. Beat eggs with ¼-cup milk, or water, in a mixing bowl to make an egg wash. Put fish breading in a separate bowl. Dredge fish fillets in egg wash, then coat in fish breading.

Coat air fryer with nonstick cooking spray. Arrange breaded fish fillets in a single layer in air fryer. Air fry at 400 degrees for 10-12 minutes. Alternatively, bake uncovered in lightly greased shallow pan at 400 degrees for 15-25 minutes, until fish flakes with a fork.
Serve over warm tortillas with coleslaw and pickled onions.

Tip: Put the Shore Lunch in a zipper-locked gallon bag to bread the fish for less mess.
PICKLED RED ONIONS
    1    red onion
   ½    cup apple cider vinegar
    1    T. sugar
   ½    tsp. salt
    1    cup hot water (not boiling)

Slice red onion thinly (the thinner, the better) and place in a sealable jar.

In a measuring cup, combine vinegar, hot water, salt and sugar, mixing until salt and sugar dissolve. Pour pickling liquid over onions to fully immerse them. Allow to set in fridge for at least an hour.
CREAMY CILANTRO COLESLAW
    1    bag shredded coleslaw mix
    1    jalapeño, seeded and chopped
    3    green onions, chopped
    2    T. cilantro, chopped
   ½    cup mayo
   ½    cup sour cream
          Juice and zest of one lime
          Salt and pepper, to taste

In a small bowl, whisk mayo, sour cream, lime juice and zest, and season with salt and pepper. Set aside.

Place slaw ingredients in a large bowl. Pour in dressing and toss to combine. Adjust seasoning. Cover and chill for at least 20 minutes.