Ranchers tag with technology
Akin to a Fitbit for cattle, an ear tag developed by a Fargo-based company is bringing smart technology to the most basic of places – prairie pastures.

The tags have been developed by 701x, a tech startup owned by Kevin Biffert.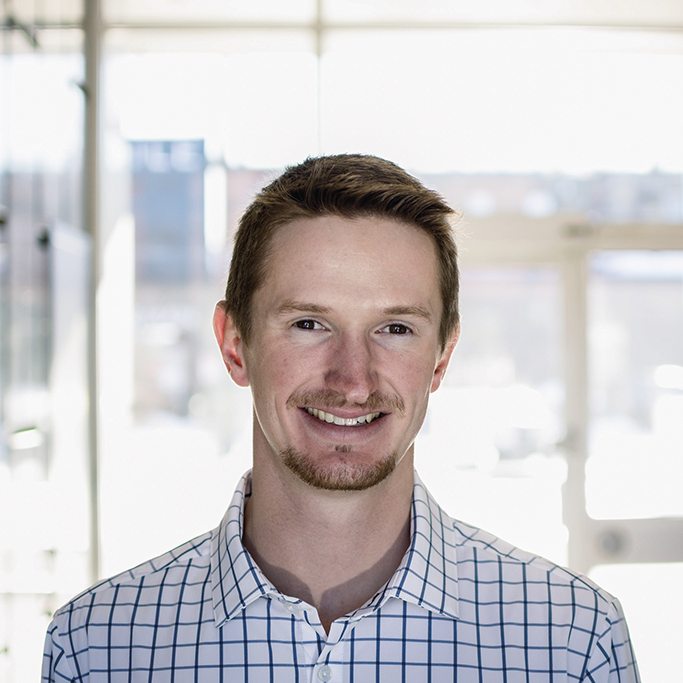 Max Cossette
Courtesy photo
With an engineering degree in hand, Biffert started a job at 3M in Wahpeton, before founding Fargo Automation in 1996, which creates automated packing machines for pharmaceutical companies. In 2017, Biffert sold the company to Korber Medipak Systems, a German company, then began looking for the next opportunity within the internet of things (IoT), an area where he saw potential.

"He grew up on a ranch in Killdeer with 15 siblings. Some of them are still ranching today, and they were always teasing him, 'If you're so smart, why don't you track our cattle to let us know when they get over the fence?'" says Max Cossette, the vice president of business development at 701x. "After he sold the business, he decided he was going to pursue that."

In 2020, Biffert started exploring the idea of a GPS ear tag for cattle.

"That's been the basis of our whole company from the get-go," Cossette says.

Cossette was the first employee hired in March 2020, and the two began building the business. As a tech startup, developing something entirely unique to an industry was a huge learning process, he says.

Cossette simply started calling ranchers, asking them about their needs.

"We got a lot of great feedback," he says

By August 2020, engineers were hired to start building the product, and software engineers began work in January 2021. The first ear tag became commercially available nationwide in May 2022.

"We're really taking off and have gained a lot of attention by the industry," Cossette says. "We're a little under three years old, but we've been growing like crazy."

The product is manufactured in Fargo, where the company is headquartered, with 25 full-time employees and eight part-time employees.
 
Tagging the industry
"Basically, it turned into building a comprehensive recordkeeping system," Cossette says.

701x now has a cattle management system to help ranchers manage records and track cattle.

First, the Autonomous Rancher app offers a digital calving book on a smartphone. It offers communication between family members or a rancher and employee during those long days of calving, when a note on the countertop might be the only communication. Or it replaces that tattered notebook where cattle records are recorded in pen or pencil.

"Instead of going out to the pasture with your pen and paper, you just use your smartphone. You track all your notes. Any records associated with any animal can be tied to that animal's records on a platform. It works offline out in the pasture. Then, you go back online and it syncs up and everyone sees the data that's on the platform. You can have an unlimited amount of users. I can go out at 2 a.m. during calving season and put in that No. 163 calved last night and I gave it a vaccine. If my brother were to wake up at 8 a.m., he would see, 'OK, Max entered this. I don't have to worry about those animals.' And you don't have a double-entry problem either," Cossette describes.

The software is a stand-alone product that allows ranchers to enter data from the pasture or chute-side on each animal. With a breed association aspect, the app also allows ranchers to more easily import current herd data, record new performance data and export those records to the breed association.

Combined with the software app, available through Apple or Android platforms, the ear tags offer another level of management.

"We have developed a cattle management solution specially designed for ranchers who are looking for more efficient ways to manage their records and track their cattle. By using our app and smart ear tags, users gain access to valuable data and insights to better understand key metrics of animal health and activity that impact productivity and profitability," the 701x website states.

Along with the app, 701x has developed two types of smart ear tags, an xTlite tag and an xTpro tag.

All 701x ear tags attach to an animal's ear with a button-backed pin, similar to a traditional ear tag.

The solar-powered xTpro tag, which looks similar to a miniature cellphone, is applied on the outside of the ear, so the solar panel can better collect the sun's power.

The xTpro tag uses solar power to charge the battery, has cellular connectivity to the software platform, is bluetooth-enabled and records GPS locations every 15 minutes.

"It is like a Fitbit, because you track all the motion and movement of the animal," Cossette says. Then, the data is sent over a cellular network.

"We're tracking all the movement data of the animal, so we can determine if the animal is eating, walking around, standing, lying and deviations in those patterns," he says.

Alerts are then sent to the rancher. A low-activity alert could indicate a sick animal. A high-activity alert might indicate a predator is chasing the animal. A no movement alert might indicate an animal's death. A transportation alert shows the animal is moving over a certain speed, which may indicate a theft. A free fall alert indicates the tag may have been cut off.

Ranchers can also create a virtual fence on the app using satellite imagery, pinning where pasture fences are located. The tag will then alert the rancher if the animal goes outside those boundaries or fences.

"Every time you get an alert, the tag picks up a GPS location as well, so you know right where that animal is at," he says.

The xTlite tag also has Bluetooth, but it does not have cellular connectivity or GPS. Rather, if it is within 50 to 100 feet of an xTpro tag, it uses that as its relative GPS location.

"Then, you can see where all these other animals are in your pasture as well," Cossette says. "And it's a much cheaper, affordable option for the entire herd. You can have one xTpro tag for every 10 xTlite tags in your herd."

The xTpro tag costs $83 per tag, and $42 per year for the data plan, with a five- to seven-year life expectancy. The xTlite tag has a three-year battery life and costs $17.50 per tag. There is no yearly subscription with those tags.
 
Testing the tech
701x has its own test ranch in Grassy Butte, where it runs a herd of 150 Red Angus cattle, all tagged with 701x ear tags.

"We have our own ranch manager who tests our products every day," Cossette says. "The ranch is in Grassy Butte, because it's a really rough, rugged and tough environment for the tags. It's super hot in the summer and super cold in the winter. It's in the Badlands of North Dakota, so it's really rough country. Bad cell service, so we had to make the product work in any scenario."

If the tag cannot connect to cell service, it will store the data until it can send a signal.

"It connects better than my phone out there, because it sends really small amounts of data," he says.

The tag records a GPS position every 15 minutes and sends alerts immediately. Otherwise, it stores and sends all the data once a day. For instance, the ranch manager sets the tags to send information every morning.

"One of the biggest value-adds we've found right now are these xTpro tags on bulls," Cossette says. "He makes sure the bulls are with the cow herd."

Increasing the pregnancy rate within a herd translates to money in a rancher's pocket. The tags also decrease missing animals who have crossed a fence or gotten lost.

"Losing a few animals a year can impact the bottom line pretty significantly," Cossette says.

This spring, 701x will have a bull-mounting algorithm for xTpro tags to chart which bulls are being productive, which justifies the cost as well, Cossette says.

On the Grassy Butte ranch, pinpointing which bulls are not being productive has been valuable.

"Our goal is to help automate and make everything as easy as possible, and reduce the labor and stress on the rancher," Cossette says.

Luann Dart is a freelance writer and editor who lives in the Elgin area.