RECIPE ROUNDUP: AUGUST 2021
Are you eating your veggies (and fruits)?
I have an activity for you. Think about what you ate yesterday.

How much fruit or vegetables (in cups) did you have for breakfast, lunch, snacks and dinner? Was this usual? If not, think about a typical day.
•    How many cups of vegetables, including juice, do you usually eat per day?
•    How many cups of fruit, including juice, do you usually eat per day?

The current recommendation for adults is 4½ to 5 cups of fruits and vegetables (in total) per day, which varies with your age and activity. The goal is to fill half your plate with vegetables and fruits, and to fill the rest of your plate with grains and various types of protein, with a calcium source such as milk on the side. Have more whole fruits and veggies than juice.

Unfortunately, only about 10% of adults meet this goal. Even fewer children meet the goal.
Why eat vegetables and fruits?
Let the wide assortment of fresh produce available at summer's end inspire you to add some color and nutrition to your plate. Fruits and vegetables provide fiber, vitamins A and C and minerals, such as potassium. Eating more fruits and vegetables can lower our risk for cancer, high blood pressure, heart disease, diabetes and other chronic diseases. Eating more vegetables and fruits also can help us lose weight or maintain our current weight.

We can't change our genetics, which might put you more at risk for certain health conditions. However, we can change our lifestyle, including our food and fitness choices.
What would you be willing to do?

If you aren't meeting the recommendations, enjoy more of the delicious produce in season at farmers markets, grocery stores and maybe from your own backyard.
Consider these strategies. Check the ones that might work for you.
•    Eat a variety of food from all the food groups every day.
•    Keep cleaned fruits and vegetables in the refrigerator in clear containers, ready to eat.
•    Have vegetables with low-fat dip for a snack.
•    Add extra vegetables to casseroles, stews and soups.
•    Drink 100% fruit juice instead of fruit-flavored drinks or soda pop.
•    Have fruit for dessert.
•    Keep a bowl of apples, bananas and/or oranges on the table. Rinse them and dry with a paper towel so they are ready to eat.
•    Choose a side salad made with a variety of leafy greens.
•    Bake with raisin, date or prune puree to reduce fat and increase fiber.
•    Add lettuce, onions, peppers and/or tomatoes to sandwiches.
•    Order veggie toppings on your pizza.
•    Enjoy fruit smoothies for breakfast or snacks. Add a handful of fresh spinach to your smoothie.
•    Pack fresh or dried fruits for quick snacks.
•    Be sure to freeze, can, ferment or dry fruits and vegetables using the latest guidance for quality and safety. See www.ag.ndsu.edu/food(link is external) and explore the free, research-based information about food preservation. Contact your local office of NDSU Extension for more information.
•    Try a new recipe or two!
Julie Garden-Robinson is a professor and food and nutrition specialist with the North Dakota State University Extension Service. To learn more, visit www.ag.ndsu.edu/food(link is external).
Description
2    medium spaghetti squash, halved, seeds removed
    2     T. extra-virgin olive oil, separated
    ¼     tsp. salt
    ½     tsp. chili powder
    ½     tsp. cumin
    ½     onion, chopped
    2     cloves of garlic, minced
    1     lb. ground turkey
    1     T. taco seasoning
    ⅛     tsp. cayenne pepper
    ¼     tsp. black pepper
    1     (15-oz.) can low sodium black beans, drained and rinsed
    1     (15-oz.) can fire roasted diced tomatoes with juices
    1     (15-oz.) can unsweetened canned corn, drained
    1     cup shredded monterey jack
    ½     cup shredded white cheddar
    1    semi-ripe avocado, sliced
    4     T. fresh cilantro

Preheat oven to 400 degrees. After cutting and seeding spaghetti squash, drizzle the cut sides with oil and season with salt, chili powder and cumin. Place the cut side face down on a large, rimmed baking sheet lined with parchment paper. Roast until tender, about 30 to 35 minutes. Let cool slightly. Using a fork, break up the squash strands.

While the squash is roasting, prepare the filling. In a large pan, heat the olive oil over medium heat. Add onions and cook until soft, about 5 minutes. Stir in garlic and cook until fragrant, about 1 minute. Add ground turkey. Cook until turkey is golden in color. Stir in taco seasoning and cayenne pepper; add salt and pepper as desired. Stir in drained and rinsed black beans, fire-roasted tomatoes with juices and drained corn. Fill each spaghetti squash with turkey mixture and top with cheese. Place in oven for about 5 minutes or until cheese is melted. Garnish with avocado and fresh cilantro.

Recipe by Julie Garden-Robinson, NDSU Extension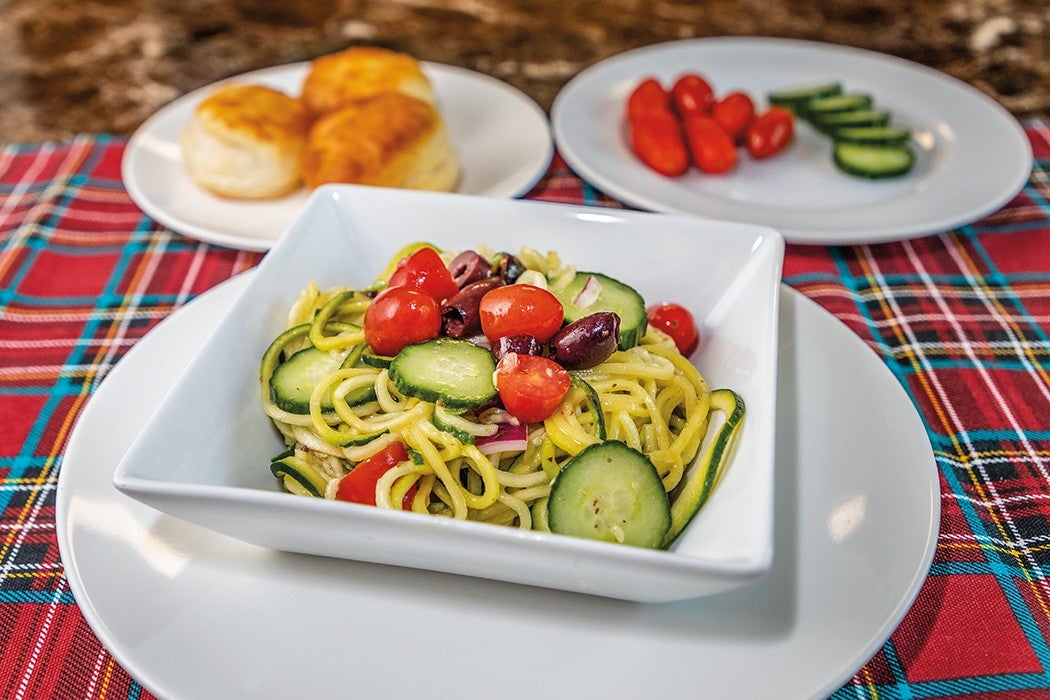 Description
2     zucchini
    ¼     cup red onion, diced
    ¼     English cucumber, sliced
    10     cherry tomatoes, halved
    10     Kalamata olives, pitted and sliced
    ¼     cup Greek dressing
        Salt and pepper to taste

Cut zucchini with spiralizer tool. A peeler may be used if necessary. Place zoodles in a bowl. Add onion, cucumber, tomatoes and olives. Pour dressing over salad and toss to combine. Season as needed.

RECIPE NOTE: Go more Greek and add crumbled feta!

Recipe by Julie Garden-Robinson, NDSU Extension