Recipe Roundup: August 2022
Forager Farm: Foraging the life their dreams have sowed
Local farmers Jonathon and Hannah Moser, owners of Forager Farm near Mandan, are foraging more than food to feed their family and community. They're foraging the life their dreams have sowed.

Those first dreams sprouted after the Mosers' experience working on an organic vegetable farm in Victoria, Australia.

Through a family friend, Jonathon was offered a six-month job working for farmer Rod May at Captain's Creek Organic Farm in 2011. He left his accounting job – student-debt free – to work in the dirt. In 2013, Jonathon returned to the Australian farm, this time in a management role and with Hannah by his side.

This experience provided the Mosers hands-on experience running a vegetable farm, learning farming practices and selling at farmers markets, all while being immersed in the local food movement. This alternate food culture was focused on healthy, fresh, local foods.

"What I saw in Australia was very much going back to that model of organic and local together," Jonathon says. "It's about the food. How do you get the best ingredients for your food?"

The Mosers saw an opportunity: They could grow and share a better product with their community than what could be found on most supermarket shelves.

"Pretty much everything we do was influenced by our time in Australia," Hannah says. "We kind of fell in love (with the farm) and decided it was what we wanted to do when we came back home to North Dakota."
 
GROWING DREAMS
The Mosers planted their first crop in 2014. They sold community-supported agriculture (CSA) shares their first growing season – and all but two seasons since.

Similar to a cooperative, members purchase shares, which provide upfront capital to the farmers, and thus, spreads some risk among the membership. Come harvest, the farmer returns a share of the crop to the members.

"The CSA is similar to an operating loan, but one funded by our community. The community is backing the farm and believing in what we are doing," Hannah says. Explaining the CSA business model to their community and how their quality produce differed was key to their early success, she says.

After their first season, the Mosers married and relocated to Jonathon's family farm in Streeter, where they built a home and grew Forager Farm. The farm provided better soil and the perfect space to grow their business. They grew more vegetables, continued their CSA and did some farm-to-school and farm-to-restaurant business.

In 2016, the BisMan Community Food Co-op opened, which provided a new market to sell their products and has "been a big driver for our business," Hannah says. Their farmers market sales took off in 2018, with the addition of their baked goods, including Hannah's sourdough bread – a love she discovered in Australia.

Forager Farm has ebbed and flowed with the Mosers' lives. In 2018 and 2021, they paused their CSA to welcome their children, Eadie, in 2018 and, Isla, in 2021. In 2019, they bought their 40-acre farm, which is served by Mor-Gran-Sou Electric Cooperative, 12 miles south of Mandan on Highway 6. And in 2020, uncertainty for the future of their farm was replaced with the community's renewed sense of finding food locally.

"We haven't really had a normal season since we moved here," Hannah says with a laugh.

This year, Forager Farm is back with their CSA, sells at the BisMarket farmers market on Saturdays during the growing season, and their seasonal produce and year-round microgreens can be found at the BisMan Community Food Co-op.
 
FOR FAMILY AND COMMUNITY
Both Jonathon and Hannah, like many farm families, work off-farm jobs to support their farm and family. They are working hard to develop a financially sustainable business that will become their full-time jobs, support them in retirement and put their kids through college.

Juggling schedules and the responsibilities of farm ownership, jobs and parenthood is not easy, but the young family is finding their footing. And the future looks "bright" green.

"We're a small, family farm that's trying to do something different and something that we really believe in – bringing these products to our community and sharing good food," Hannah says.

The Mosers are working to get a commercial kitchen to expand their bakery for wholesale sales to restaurants and grocery stores. They look to grow their orchard (and goat herd, if you ask Hannah!) and create a sustainable ecosystem on their entire acreage. Plus, these foraging farmers are committed to providing educational experiences for their community, including farm tours, on-farm dinners, "get-your-hands-dirty" events and sharing information about their farming practices and permaculture approach to their work.

"One of the reasons we purchased this farm is we're very interested in becoming more integrated into our community and bringing more of our community out to the farm," Jonathon says. "We're trying to create something beautiful, that also feeds our family and educates people on what nature can offer us with its abundance."

Cally Peterson is editor of North Dakota Living. She can be reached at cpeterson@ndarec.com.
   Find Forager Farm online at www.foragerfarm.com.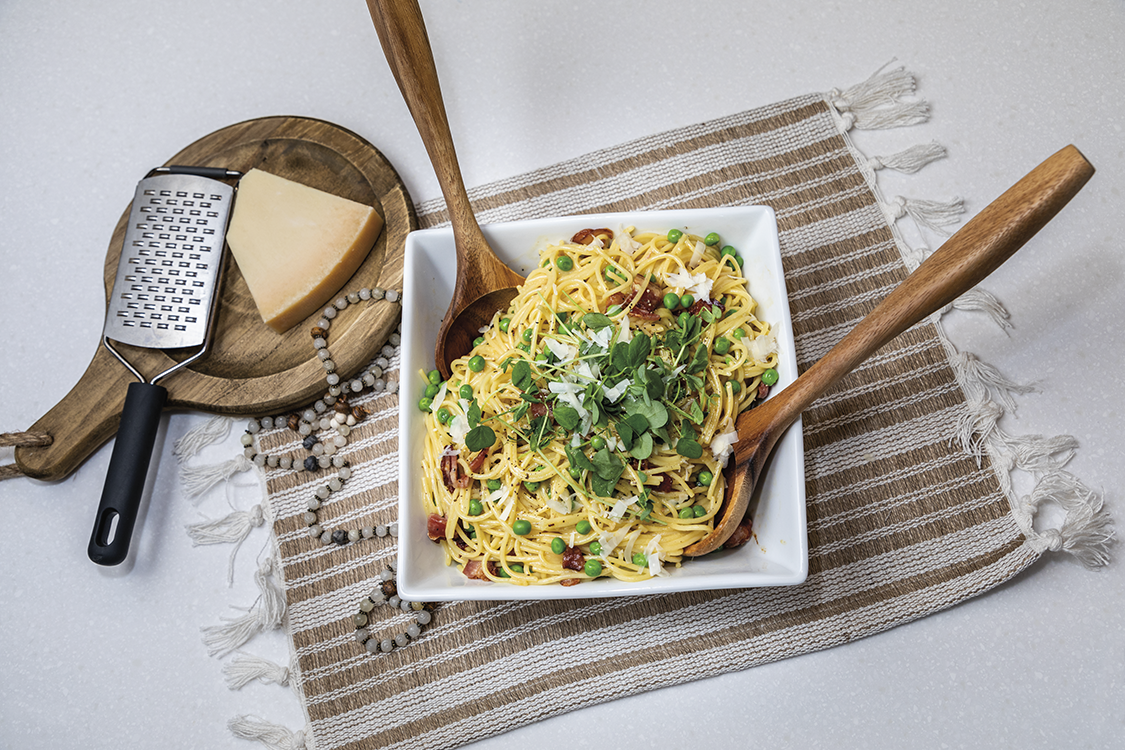 Instructions
    1    lb. spaghetti
    1    lb. bacon
    1    package Forager Farm pea shoots*
    4    eggs, room temperature
    1    cup freshly grated parmesan cheese
          Black pepper

Slice bacon into ½-inch slices and cook. Cook pasta according to package directions, reserving about 1/3 cup warm pasta water. Mix egg, parmesan, pepper and in a large bowl, until the consistency of a thick batter, then add some warm pasta water and stir. Drain spaghetti and add hot to the egg mixture; the combination of warm pasta and its water will cook the egg. Toss in bacon and pea shoots. Serve with more parmesan and fresh cracked black pepper.

* Find Forager Farm pea shoots year-round at the BisMan Community Food Co-op and both Cash Wise Foods locations in Bismarck!
Notes
Peas can be added or substituted for the pea shoots, if desired.
Source
Recipe by Hannah Moser, Forager Farm, Mor-Gran-Sou Electric Cooperative member
Instructions
          PASTRY:
 1¼    cups all-purpose flour, chilled in freezer for 30 minutes
   ¼    tsp. salt
    1    stick cold, unsalted butter, cut into pieces
   ¼    cup sour cream
    2    tsp. fresh lemon juice
   ¼    cup ice water

         FILLING:
   2    small zucchinis, sliced into ¼-inch rounds
   1    T. plus 1 tsp. olive oil
1-2    garlic cloves, minced
  ½    cup ricotta cheese
  ½    cup grated parmesan cheese
  ¼    cup shredded mozzarella cheese
         Salt and pepper
   1    T. basil leaves
         Egg

Whisk flour and salt in a large bowl. Using a pastry blender, cut in butter, until the mixture resembles a course meal, with the biggest pieces of butter the size of tiny peas. In a small bowl, whisk together sour cream, lemon juice and water, then add to flour mixture. Mix until large lumps form and pat into a ball; do not overwork the dough. Cover with plastic wrap and refrigerate 1 hour.

Spread the zucchini over several layers of paper towels, sprinkle with ½ tsp. salt and let sweat for 30 minutes. Blot excess water from zucchini before using. In a small bowl, combine olive oil and garlic. In a separate bowl, mix the cheeses and 1 tsp. of the garlicky olive oil, and season with salt and pepper, to taste.

On a floured work surface, roll out dough into a 12-inch round. Transfer to a parchment-lined baking sheet. Spread the ricotta mixture evenly over the dough, leaving a 2-inch border. Layer zucchini on top of ricotta mixture. Drizzle remaining garlicky olive oil over the zucchini. Fold border over the filling, pleating the edge to fit. The center will be open. Whisk egg with 1 tsp. water to make an egg wash, then brush on crust. Bake at 400 degrees until cheese is puffed, zucchini is slightly wilted and galette is golden brown, about 30 to 40 minutes. Sprinkle with basil and let stand 5 minutes before cutting and serving.
Notes
At Forager Farm, zucchini is harvested at 6-8 inches, when it has the best taste and texture, the farmers say. Small zucchini is preferred for this recipe, as large zucchini gets too watery and has less flavor.
Source
Recipe by Hannah Moser, Forager Farm, Mor-Gran-Sou Electric Cooperative member