Through snow, mud and miles
An ice and snow storm rolled into North Dakota late April 22. Over two days, icy rains, heavy, wet snow and winds up to 60 miles per hour wreaked havoc on western and north central North Dakota. The storm affected 14 electric cooperatives, toppling more than 4,000 poles, downing distribution and high-voltage transmission lines, and damaging substations, with the brunt of damage sustained in the northwestern quadrant of the state and areas served by Burke-Divide Electric Cooperative, McLean Electric Cooperative, McKenzie Electric Cooperative and Mountrail-Williams Electric Cooperative.

"It's the snow that breaks everything," said Jerry King, Burke-Divide Electric Cooperative (BDEC) general manager. "This is probably the wettest snow I've ever seen in my life – it was blue, it had that much water in it."
By Saturday evening, all BDEC members were without power. It was the first time the co-op went dark in its 77-year history.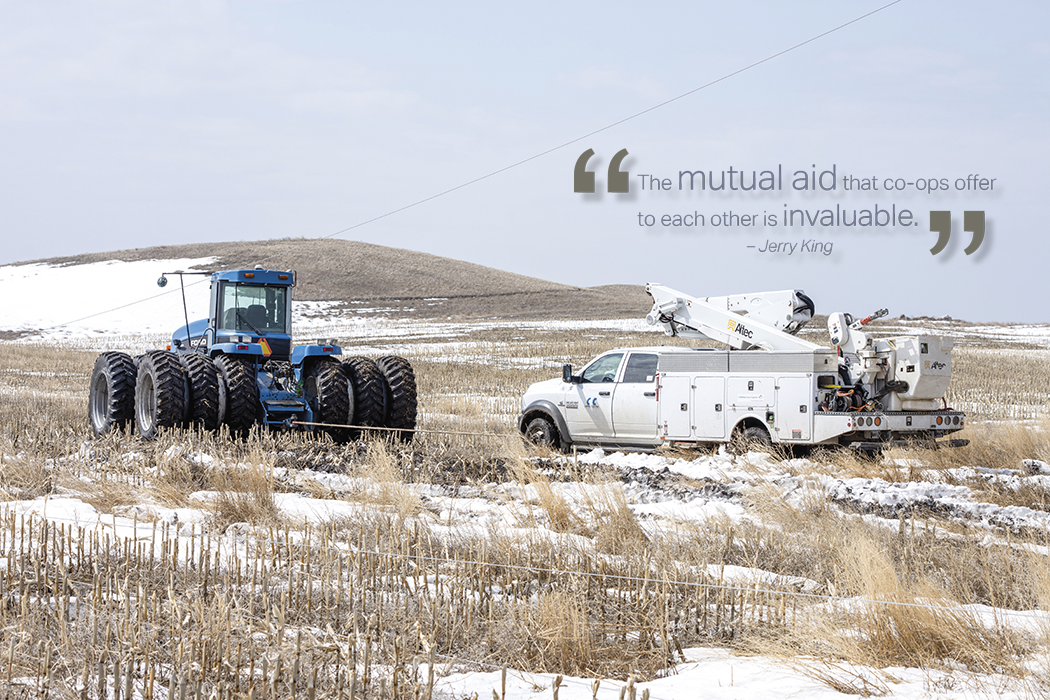 After 40 hours without power, crews began working diligently to restore power.

Help began pouring in. Some cleared roads, others brought food. And cooperatives showed up to help, too, sending lineworkers, equipment and supplies. Around 70 lineworkers from 16 electric cooperatives in North and South Dakota assisted BDEC in the weekslong power restoration effort.

"The mutual aid that co-ops offer to each other is invaluable," King said. "The value of having co-op people is they embrace the same philosophies we do. And they understand how the system's built. There's no education necessary. We can just get to work."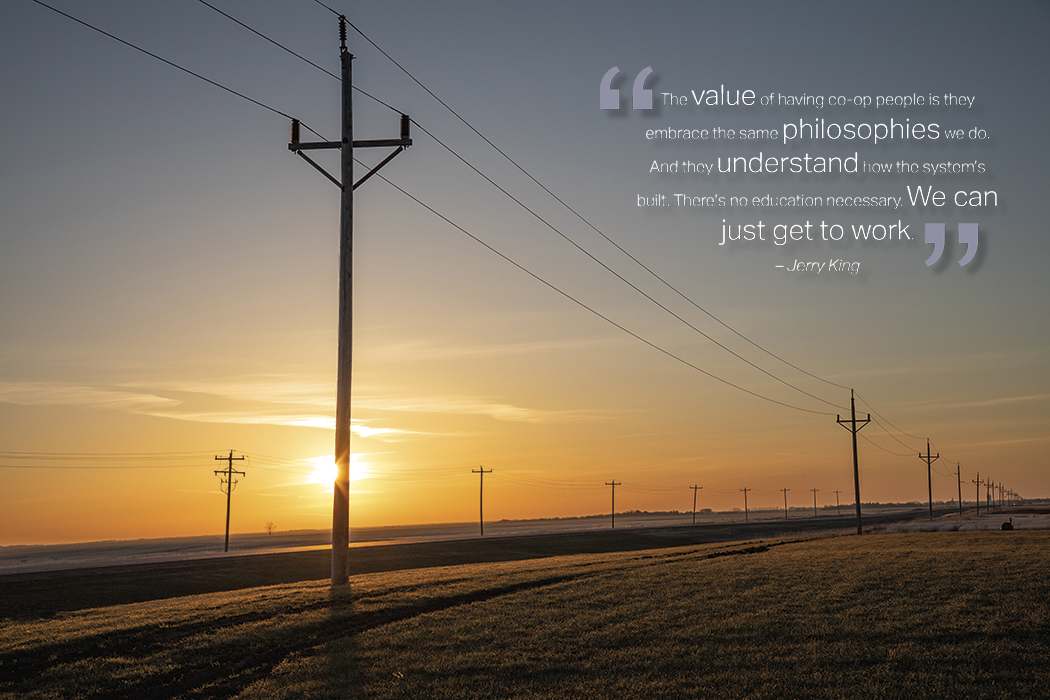 Ground conditions didn't improve as the snow melted. Wet conditions and mud made it difficult to set poles and get equipment to remote areas. And supply chain issues made securing materials a challenge.

Burke-Divide Electric Cooperative alone had more than 1,700 broken poles and several thousand broken crossarms and power lines. But through a large, coordinated effort and the support of its members, the cooperative got the lights back on.

"I'm most proud of my people. My line guys are fairly young, and to see the leadership they've taken on and the wisdom they've taken in makes me pretty proud. We've all learned a lot through this," King says. "And talk about the cooperative network. Our co-op neighbors have been very valuable. When you have co-op people working in these situations, you know things will be done right. We all do the exact same thing, and while we travel different roads to get there, we're in it together."

Cally Peterson is editor of North Dakota Living. She can be reached at cpeterson@ndarec.com.