It's not beans and biscuits feeding hungry cowboys anymore.

The chuckwagons of the Old West have evolved to serve the gamut of palates. From barbecue sundaes and pulled pork parfaits, to Mexican-German fusion chili and the Fargo Fillie, the modern food truck has found a permanent parking spot in America's food scene.

In North Dakota, 701 Food Trucks has become the face of local food trucks. It's founder, Mike Schmitz, of Bismarck, was an early incubator of the food truck concept. He started the Fargo Food Truck Festival in 2013 in his previous role as general manager of the North Dakota Horse Park in Fargo.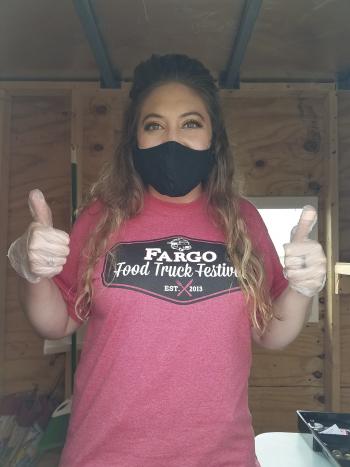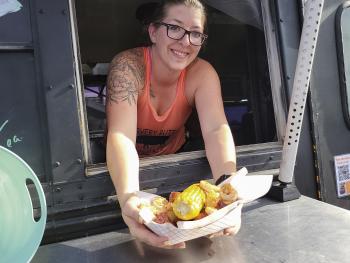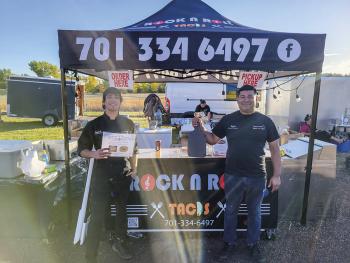 Local food truck vendors serve the gamut of palates, with unique and mouth-watering bites, at food truck festivals across the state.
Photos courtesy 701 Food Trucks
"We were way ahead of our time," Schmitz says of that first food truck event, which he isn't sure even drew 1,000 people. But after getting asked repeatedly why the food truck festival wasn't planned the following year, Schmitz brought it back in 2015 and made it a two-day event. "It just exploded. Half the trucks ran out of food by mid-afternoon."

This year, 701 Food Trucks is planning for its biggest year yet, with food truck festivals in Watford City, Bismarck, Fargo, Grand Forks and Dickinson.

"I had the idea for this even years before that first event. But I wondered how we were going to get food trucks. At the time, it didn't really seem like a feasible thing," Schmitz says. "But it's grown massively. It's amazing how much the (food truck) community has grown."
 
FLOURISHING THROUGH DISRUPTION
On the heels of the success in Fargo, Schmitz brought a food truck festival to Bismarck that same year and managed both events for several years. But that success would seemingly come to a grinding halt in March 2020, when the coronavirus hit North Dakota.

In those uncertain early days of the COVID-19 pandemic, the unknown loomed over all segments of society – community, government, business, medicine, the service industry.

"We knew North Dakota was going to get shut down," Schmitz says, as his food truck vendors grew increasingly concerned about canceled events, their business and livelihoods. "So, I mentioned to the vendors the idea of a virtual food truck event."

When asked to explain himself, Schmitz admittedly didn't know what a virtual food truck event would entail. By June, 701 Food Trucks had strung together a drive-thru food festival with safety top of mind.

"People waited in line an hour and a half, but they didn't care because it was something to do," Schmitz says. "It was a crazy time. The vendors, who lost 25 to 30 events that year to the pandemic, were appreciative. It was about taking care of our food truck community and providing something for people to do."

While many restaurants and food vendors across the country were forced to close their doors due to the pandemic, 701 Food Trucks pivoted, got creative and actually flourished through the disruption. Schmitz says the company grew "two-and-a-half fold," adding pop-up events, a food truck rodeo and other smaller market festivals.

"I think COVID really amped it up, and really cemented that this is an ongoing thing for me and these vendors," Schmitz says. "We've made our brand the face of food trucks."
 
BUILDING CONNECTIONS
In addition to the festivals and events 701 Food Trucks hosts in the summer and fall, the business also helps food truck operators market themselves and serves as a booking agent for local vendors.

Schmitz started the "701 Food Truck Fans" page on Facebook, which allows vendors to post their locations, upcoming events and menus, so foodies know where to find their favorite food trucks. The page is followed by more than 1,800 users.

Plus, Schmitz has created a page on his website, www.701foodtrucks.com, to connect food vendors with people, groups, organizations or businesses interested in booking a food truck for their next event. Individuals simply fill out a short online form, describing their event, and Schmitz helps curate vendors to serve the occasion. From weddings, graduations and birthday parties to business meetings, music festivals and community celebrations, 701 Food Trucks has been a key partner in countless events across the state through its food truck booking service.

Another opportunity Schmitz recognizes is product sourcing from local producers. With more food vendors seeking local meats and vegetables, a strengthened local food supply offers benefits beyond agriculture and the service industry.

What's next for 701 Food Trucks?

"I don't think we're anywhere near the cap of where it can go, and I say that because of the requests I get for vendors," Schmitz says. "And as far as the events go, these rural communities appreciate having a taste of the big-town event."

"I love North Dakota. I love these communities. Now, to provide 10 events this year to all these different communities, it really means a lot to me," he says. "There is a lot of unglorified aspects of this stuff, but when you get there and fill a venue full of people, that makes it all worth it."

Visit www.701foodtrucks.com or "701 Food Truck Fans" on Facebook to learn more.

Cally Peterson is editor of North Dakota Living. She can be reached at cpeterson@ndarec.com.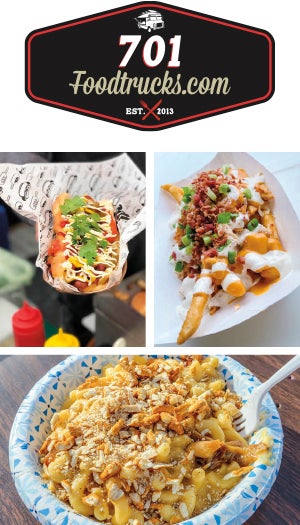 ATTEND A FOOD TRUCK FESTIVAL
701 Food Trucks may be bringing "North Dakota's flavor-ite food events" to a community near you.

In addition to indulging in a smorgasbord of treats and taking in the atmosphere of a food truck festival, 701 Food Trucks adds to the excitement of each event with daily competitions among vendors. The Friday of the festival usually includes a "Sweet Tooth Taste Test," Saturdays may feature a "Bloody Mary Matchup" and the "Making Bacon Challenge" wraps up on Sunday.

"The vendors like competing and it gives a little bit of flair each day," says Mike Schmitz, 701 Food Trucks founder. "It's amazing to see the stuff these vendors put out and the level of food that's come of those contests."
 
701 FOOD TRUCK'S 2022 FOOD TRUCK ROAD TRIP
•    Watford City Food Truck Rodeo – June 3-5, McKenzie County Fairgrounds
•    Bismarck Pop-up – June 17-19, Bismarck Borrowed Bucks Roadhouse
•    Fargo Pop-up – June 24-26, Fargo Elk's Lodge
•    Fargo Food Truck Festival – Aug. 12-14, Red River Valley Fairgrounds
•    Grand Forks Food Truck Festival – Aug. 26-28, Grand Cities Mall
•    Bismarck Food Truck Festival – Sept. 9-11, Bismarck Municipal Ballpark
•    Dickinson Food Truck Rodeo – Sept. 23-25, location TBA